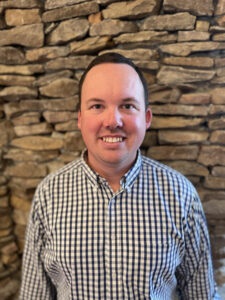 Jonathan Wood, Senior Pastor
A native of Palmetto, Georgia, Jonathan earned his Bachelor of Business Administration degree from the University of West Georgia and a Master of Arts in Pastoral Ministry degree from New Orleans Baptist Theological Seminary. Jonathan felt the call into ministry in 2006 and has served in student, discipleship, and pastoral ministry ever since. His wife, Tiffany, is a graduate of Georgia Military College and West Georgia Technical College with degrees in pre-nursing and radiologic technology. Jonathan and Tiffany have two young children. The Wood family has been serving Bethlehem since August of 2020.
12 There is salvation in no one else! God has given no other name under heaven by which we must be saved. – Acts 4:12
Adam Cain, Associate Pastor of Youth
Adam Cain grew up in church but never gave his life to the Lord until he was 17 and in college. He began to get active in local church after he moved to Sharpsburg in 1997. He was volunteered for a youth VBS in 2000, which led to the creation of a weekly youth service. He has served at four churches in the Coweta area over those years. He is a follower of Christ first and foremost, a husband second, and a father third. Serving as a youth minister is unapologetically fourth in his priorities. He loves working with students and has no doubt that this is the area of ministry God has called him to. He has been serving as the Associate Pastor of Youth at Bethlehem since December 2014 and humbly believes he is a gift to the church as he is fulfilling God's plan to serve youth. He has been married to Dana Cain since 1995 and they have two sons.
11 So Christ himself gave the apostles, the prophets, the evangelists, the pastors and teachers, 12 to equip his people for works of service, so that the body of Christ may be built up 13 until we all reach unity in the faith and in the knowledge of the Son of God and become mature, attaining to the whole measure of the fullness of Christ. – Ephesians 4:11-13
Mark Toole, Music Minister
Mark Toole accepted Christ as his savior in sixth grade during a local VBS. Later, when he was 17 years old he felt the call to ministry while attending a youth group conference. Once he finished high school, Mark began to pursue that calling by earning a BA in Music/Vocal Performance from Atlanta Christian College (now Point University). After earning his degree, he was finally able to fulfill his calling to the music ministry at a local church in Duluth, GA. He has continued to pursue his work in ministry ever since, wherever God has taken him. That journey brought him and his wife Robyn to Bethlehem Baptist Church in 2013, where he has enjoyed serving through leading worship and directing the choir. He has also been blessed with a little girl who loves to enthusiastically join in worship whenever she can!
8 For it is by grace you have been saved, through faith—and this is not from yourselves, it is the gift of God— 9 not by works, so that no one can boast. 10 For we are God's handiwork, created in Christ Jesus to do good works, which God prepared in advance for us to do. – Ephesians 2:8-10
Ruth Brown, Director of Children's Ministry
Ruth Brown felt the call to the ministry in 2021. She had been praying for God to use her and guide her to ways she could be of service to His church. When the position at Bethlehem became available, she felt it was the answer to her prayer. Ruth is an alumni of UGA and holds a BSED Early Childhood Education, MEd Reading Education, and EdS Early Childhood/Curriculum and Instruction. She has been the benefactor of many faithful leaders discipling her throughout her life, and felt the leading from the Lord to use her gifts, talents, and passion to serve in leading Bethlehem's children's ministry. Ruth is married to Matthew Brown and has three children.
6 Train up a child in the way he should go, and when he is old he will not depart from it. – Proverbs 22:6